Terramed Advanced Graduated Compression Leggings Women 20-30mmhg Footless Microfiber Leggings Tights
Terramed Advanced Graduated Compression Leggings Women - 20-30 mmhg Footless Microfiber Leggings Tights
THE ULTIMATE COMPRESSION STOCKINGS FOR WOMEN - Terramed footless leg compression stockings are graduated for tighter compression at the lower leg and looser at the top, this gives you pressure in the right places to reap the benefits of leg compression sleeves. DON'T FORGET ABOUT COMFORT AND STYLE, Terramed uses the softest microfiber for all day comfort and black to go with anything in your wardrobe

EXPERIENCE THE BENEFITS of graduated compression stockings. They improve your blood flow and lessen pain and swelling in your legs. They can also lower your chances of getting deep vein thrombosis (DVT), a kind of blood clot, and other circulation problems. Wear our black compression stockings for relief during prolonged bed rest (such as after surgery), sitting for long periods (such as on a plane), pregnancy, or to reduce overall clotting risks

QUALITY GUARANTEED - Terramed advanced medical compression stockings for women are made in the USA with specialized high-elastic microfiber fabric construction technology making them very comfortable to wear on a daily basis. We take pride in our graduated compression legwear and we know you'll love the comfort, style and benefits of your new black microfiber graduated compression leggings! Backed by the Amazon A-Z guarantee, TRY THEM RISK FREE TODAY

SO MANY USES - Wear your new 20-30 Mmhg footless compression stockings when sitting or standing for extended periods of time. Long hours travel (car, airplane, train). Prevents Economy Class Syndrome (ECS) which occurs on long flight, due to traveler's inactivity, gravity, and cramped seating, which slows down the blood flow through veins.

PAIN RELIEF AND IMPROVED PERFORMANCE - Relieve and prevent swollen, aching feet and ankles, Varicose veins, Sclerotherapy, Vein-stripping, Lymphedema. Nurses love our medical compression leggings for lessening pain and swelling after being on their feet all day. Have a friend that works in retail or behind a standing counter? Gift them the recommended treatment of all day therapeutic relief for their legs.
What is the cost of shipping?
Domestic Shipping: Shipping is a flat $5 to anywhere in the United States. Expedited shipping is available at checkout for an additional cost. International Shipping: Expedited shipping via DHL Express is available with door to door tracking. Price ranges from $25- $85. International Customs and Duties: Your package may be subject to import taxes, customs duties and/or fees imposed by the destination country.These charges will typically be due once the your purchase arrives at the country of destination. For example, if you are receiving our products in the United Kingdom, you will be charged a 20% Value Added Tax (VAT) in order for your purchase to pass through clearance.
How do I return my order?
Thank you for trying Terramed .You are welcome to return your merchandise within 30 days of receipt and in new condition for a full purchase price refund. Use a tracking number and do not require a signature. You will receive an email notification when the return is processed. Return adress : Terramed 9310 Towne center dr unit 72 San Diego CA 92121 Please allow 7-10 business days for the funds to appear in your account after the package is received by Terramed.
Customer Reviews
08/05/2020
Marischenka V.
I recommend this product
You-can-go-anywhere Compression Leggings work
I liked the idea of wearing compression leggings instead of traditional long socks. You can wear them everywhere and still look stylish. They are NOT see-through, so they are good with a short top. They have a very comfortable top part which is a wide elastic belt. The fabric is of good quality and has a nice hand feel. I was not sure about the size as I was in between S and M. I contacted the seller and got a quick response. The leggings are pretty tight, so I was recommended an M. I wear them for an hour in the evening after my on the move workday and my tired legs are getting much better. I am very satisfied with my purchase and advise them to anybody who has pain in the legs at the end of the day, vein disease or preconditions.
I recommend this product
No More Swollen Knees
OK, I don't know if it's because of my morning drink regimen (collagen, green superfoods, herbs, etc.) OR because of these tights... OR both! But- I had swollen knees for a few years. And always had bad circulation in my legs. Now- no more swollen knees. Legs feel terrific. Thank you, compression leggings!
I recommend this product
I had to clip the elastic because they were tight around my waist & I wear 14/16 & ordered xxl so they run small. They do help my legs & glad I ordered them but I would probably order a larger size.
I recommend this product
Buy them!
Absolutely love these! Do not size up.... anyone saying they are too tight... they are supposed to be they are a 20/30 compression and that means they squeeze a bit tighter. If you don't like like the tightness I would go down in compression. They are a bit see through in the booty area... I wouldn't wear them without something covering. But they are comfortable and they help my aching legs! I am 5'10 and they are just right... they are LONG. If you are short they may be a bit too long but if you are probably 5'7 and up I think would be perfect.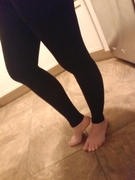 I recommend this product
Wonderful leggings!
Though I don't get any swelling I usually get a lot of pain in my legs when I am standing for longs periods of time, even though I'm relatively young. I have tried compression socks but they don't cut it. These compression leggings have been a game changer for me and I can continue longer when I have them on. I bought them specially because I was about to go on a two week trip and I was afraid of what it was going to be like without any support during some of the tours that included quite a bit of trekking and standing, or the days that meant also too little movement spent in buses/trains. Again, these leggings were GREAT! Very comfortable, they always stayed in place. Unlike other reviewers, I would not suggest wearing them by themselves. It might be a thing of personal taste: it has a mesh pattern I could notice and it can also be a little see through (I imagine this probably depends also on the wearer's figure), which all in all I would not like. Instead, I wore them under jeans or hiking pants during the trip and now I intend to wear them under work pants. They do look good enough though for them to peek out through the cut outs on some of my jeans. Following the suggestions from other reviewers, I hand wash them. I have done so after every use. During the trip I would wash them while I was in the shower using a local laundry soap bar and by morning time they were always dry and ready to go again. These leggings are great and will make you feel so good. I am highly inclined to get a second pair. PS: I forgot to mention that these rise high up to the waist, so whenever I wear them with jeans or pants I make sure I wear them with a tank and/or dress shirt tucked in so they don't show. It would look even worse than panties showing above pants in my opinion.